Prerequisites
Prior to reading this article we recommend you read the following article:
Overview
The Inventory Balances Overview Map shows how inventory movements update the Inventory Quantity Available table and the Detailed General Ledger table.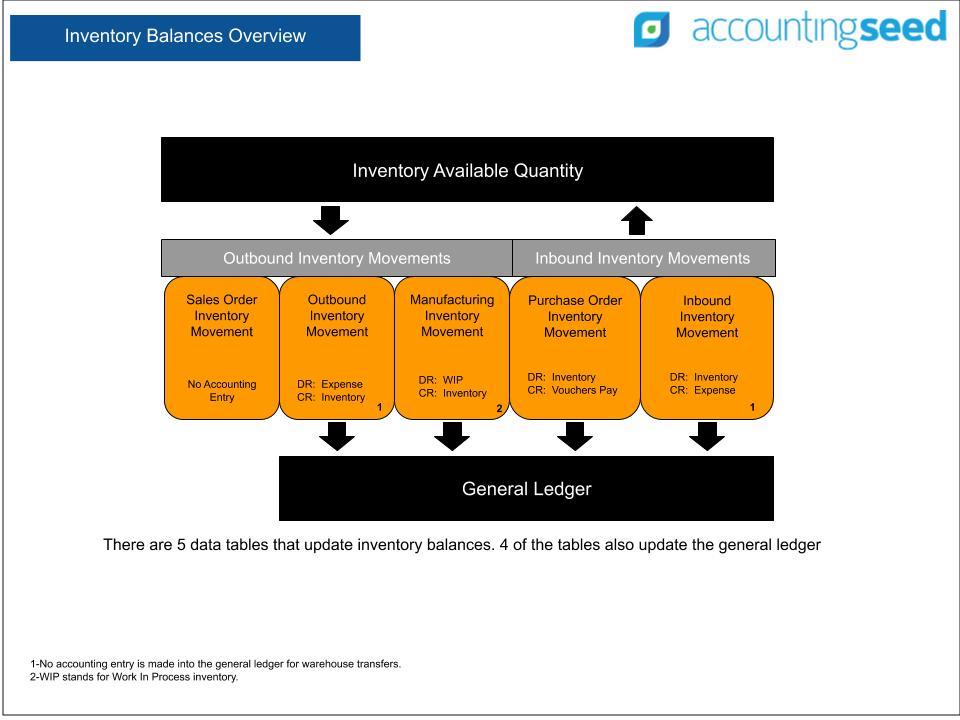 There are five types of inventory movements in Accounting Seed:
Sales Order 
Outbound Inventory
Manufacturing 
Purchase Order 
Inbound Inventory
Three of the movements decrease available quantities and two of them increase available quantities. Of the three that decrease available quantities only two, Manufacturing and Purchase Orders, actually record entries into the general ledger.
Below is more information about how the movements are used in controlling inventory and updating the general ledger.

Outbound Inventory Movements
Decrease available quantities
Sales Order
A sales order inventory movement has no effect on the general ledger. It decreases the inventory quantity available when a sales order is allocated.
Outbound Inventory
Both Outbound and Inbound inventory movements are used to record warehouse transfers and adjustments up or down to inventory balances. Both of these types of inventory movements can be made with or without accounting transactions.
Warehouse transfers do not have any impact on the general ledger and have no related accounting entries as a result. A warehouse transfer updates the inventory quantity available table for the correct location of a product in the warehouse.
Outbound and Inbound inventory transactions made with accounting entries have the type set as Accounting. These are typically used to process customer or vendor returns and correct stock levels due to damage, losses or theft etc.
Manufacturing
A manufacturing inventory movement decreases the quantity available when raw material stock is allocated to a manufacturing order. In other words with the supplies are removed from raw material stock to build the finish good. The manufacturing inventory movement will always debit the Work in Process GL account set in Accounting Settings and credit the inventory GL account set on the product.
Inbound Inventory Movements
Increase available quantities
Purchase Order
A purchase order inventory movement will increase the quantity available and create a debit to the inventory GL account set on the product and create a credit to the GL account set for Vouchers Payable in Accounting Settings. The Vouchers Payable entry is relieved when the product is recorded as a payable.
Inbound Inventory 
Inbound inventory movements, like their Outbound inventory movement counterpart, are used to record warehouse transfers and adjustments up or down to inventory balances as described above. See Outbound Inventory above.