Summary
Accounting Seed has two managed packages, Financial Suite and Orders & Inventory. The functionality in the Orders & Inventory package is listed below and requires that the user also has a license to the Financial Suite package. 
To learn how to use these features, visit the Orders and the Inventory sections of this knowledge base.
Inventory Tracking
Accounting Seed uses the Salesforce Product object to track physical inventory of products for a specific customer.

A customer can track:

Purchased Products - something they buy and then resell.

Kitted Products - a collection of items they bundle together to sell as one unit.

Manufactured Products - something they buy raw materials for and then add labor or other resources to finish into a unit they sell.

Raw Material Products - something they buy to use in the manufacturing process.

Accounting Seed tracks the available quantity of these products in one or many Warehouses which can each have one or many Locations.

Each Product can be marked as a serialized item.

A Product can also be recorded as an Installed Asset associated with the Account record (Customer)

All inventory is tracked using Standard Costing accounting methodology.
Sales Orders
Sales Orders represent demand in the Accounting Seed Orders & Inventory package. They are intended to indicate which physical products have been ordered and track if they have been fulfilled or not.

Sales Orders can be generated directly from a Closed/Won Opportunity by clicking the Create Sales Order button from the Opportunity record. Opportunity Product Lines are converted into Sales Order Lines.

A user can create a Sales Order into Billing by clicking the Create Billing button on the Sales Order record.  The Sales Order lines are converted into Billing Lines.

A user can allocate available inventory to a Sales Order from their choice of Warehouses and Locations.

Sales Orders can track if an item has been marked as shipped and packing slips can be created.

Accounting Seed also supports barcode scanning of serial numbers when shipping or receiving a product.

Aggregate and De-Aggregate Sales Order Lines.
Purchase Orders
A Purchase Order represents an approved request to a Vendor for one or many Products or Services. In Accounting Seed it is most typical to use a Purchase Order for the ordering of Inventoried Products.

A Purchase Order can be created by clicking the Create Purchase Order button from a Sales Order record, or from the Create Purchase Orders button from the Sales Order List View. A Purchase order can be created for each Sales Order, or a Purchase Order can be created for multiple Sales Orders that have the same Product.

Accounting Seed supports two types of Purchase Orders:

Standard - This is a traditional purchase order used to receive physical goods into a Warehouse and Location.

Drop Ship - This is used for purchase orders that will not be delivered to the business's warehouse, but rather to their customer's location/job site. When these Purchase Orders are fully received, they will automatically allocate the inventory and create a Shipment record indicating that the inventory has been sent to their customer's location.

If the Purchase Order has serialized Products on it, those can be individually scanned into inventory upon receipt on the Purchase Order Line.

A Purchase Order can be automatically turned into a Payable to that same vendor by clicking the Create Payable button. The Purchase Order Lines become Payable Lines.

Comments on Purchase order are inherited from the Sales Order Line.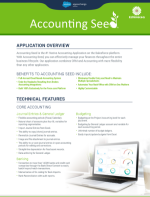 Print a full listing of all Accounting Seed features.