Summary

This article describes the functions and capabilities of Accounting Seed's General Ledger feature.
To learn how to use this feature, visit the General Ledger section of this knowledge base. 
Journal Entries
Journal Entries are used in Accounting to make adjustments or record items that don't originate from any of the source objects in Accounting Seed. A common example is a payroll journal entry.

Journal Entries must have at least two Journal Entry Lines, and the total of the Debit lines must be the same as the total of the Credit lines to post to the ledger.

It is common for only certain users to be able to create and post Journal Entries. This is usually reserved for the accountant to do as part of their month-end activities.

Journal Entries can be created and posted later to allow for an approval process to happen, or created and posted all in one step.

Accounting Periods can be batch opened and closed.

If a user is creating a Journal Entry and selecting the AR Control GL account, then they must also select a Customer (Account). If they are selecting the AP Control GL account, then they must select either a Vendor (Account), Contact, or User.
Multi-Company
An organization may choose to use one instance of Accounting Seed to track its financials for more than one company.  For example, Curro Holdings is in the condo rental business and has two other companies:

Curro Investments - This company buys and leases condo buildings.

Curro Condo Services - This company runs and manages condo rental properties.
In this scenario, Accounting Seed would have three different companies set up to represent each of the three legal entities. They would add two more ledgers to their system. Once added, they will be able to select which company they want to create a transaction for.
Allows businesses to track multiple companies in a single Salesforce instance provided all the companies have the same:

Fiscal year end

Chart of Accounts

Base currency

Allows the customer to track Billings, Payables, Cash Receipts, Cash Disbursements, Journal Entries, Purchase Orders, Sales Orders, Time Cards, and Expense Reports for individual companies.

The Ledger field is at the header level while the variable fields are at the detail line level. Each transaction must be posted to only 1 ledger, but can be split across multiple variables.
Multi-Currency
For businesses who need to invoice customers or pay vendors in other currencies than their own, they will want to elect to use Accounting Seed's multi-currency functionality.

Enables an organization to invoice customers and receive payment in any foreign currency.

Enables vendors to be entered and paid in any foreign currency.

Enables Journal Entries to be entered in any foreign currency.

Automatically tracks any "realized gains or losses" due to currency exchange rates, this is necessary when managing the reporting in a customer's base currency. The ledger will track both the foreign amount and the converted amount of all foreign currency transactions.

Accounting Seed uses Salesforce currencies to support this feature.

Customers must have one base-currency which they will produce their financial reporting in

Customers must also elect to use Salesforce advanced currency management for dated exchange rates functionality to use this feature.

Bank Deposits and Bank Reconciliations can be processed in foreign currencies.
Fixed Assets
Accounting Seed allows for a user to set up a Fixed Asset and track data on its useful life. Examples like company trucks or machinery are good candidates for Fixed Asset items.

An automatic function exists to allow a user to set up a series of entries to depreciate the asset over months in the future

Accounting Seed supports straight-line depreciation.
Budget Entry
Accounting Seed's transactional data is stored in a Ledger called Actual. You can create more Ledgers to track Budget data; for example, you might have a Budget Ledger for a calendar year named 2018 Budget.

High-level budget data can be uploaded into Accounting Seed to be used in comparison to actual data in a Financial Statement.  

This data is populated as records into the Financial Cube object related to a Budget ledger, so it needs to be aggregate data by the Accounting Period, GL Account, and GL Variables.

Project Budget data can also be tracked, however, this is tracked in the Project Accounting set of functionality on the Project Task object. Project Budget data cannot be reported on with the Financial Statement tool, but rather in a Salesforce report.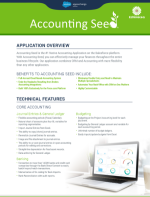 Print a full listing of all Accounting Seed features.