Summary

This article describes the functions and capabilities of Accounting Seed's Cash In feature.
To learn how to use this feature, visit the Cash In section of this knowledge base.
Customer Billing
A Billing is a Customer Invoice for goods or services sold by the organization.

It is used to record revenue from a Sale and to track money owed to the business.  

A negative Billing is used as a Credit Memo for returns, refunds, or discounts.

A user can create a Billing in Accounting Seed from a closed/won Opportunity, a Time Card, an Expense Report and a Sales Order.  

Billing PDF Formats support the ability to customize the way an individual Billing looks when emailed to the customer.

Recurring Billing functionality supports the creation of a periodic Billing on a monthly, quarterly, semi-annual, and annual basis.

Both an individual Billing record and a Recurring Billing record can be created directly from the Opportunity object by a clicking the Create Billing/Recurring Billing button.  Any Opportunity Product records on the Opportunity will be created into Billing Lines or Recurring Billing Lines.

Billings can be batch created from Opportunity Listview by selecting multiple opportunities and clicking the Create Billing button.
Receiving Cash
A Cash Receipt records the collection of money, either by cash, check, or electronic payment.

When a Cash Receipt is applied to a Billing it reduces the Balance of the Billing by the amount of the Cash Receipt.

Cash Receipts can be used for customer payments, prepayments, or vendor refunds.

A Cash Receipt would be used for customers who make a down payment, deposit, or to pay a retainer. In this case, the Cash Receipt would not be immediately applied to the Billing and would continue to show a balance until it was fully applied to one or many Billings.

A Cash Receipt automatically posts upon save.

In the Cash Receipt application screen, the columns can be adjusted with standard or custom fields through the field set on the Billing.

Receiving Credit Card Payments for multiple billings at one time from the billings list view.

 
Accounts Receivable Management
Accounts Receivable (A/R) is a term used to reference the amount of money still owed to a business from their customers.  A business will track this metric on a regular basis (usually monthly) to understand what collection activities they need to do. The longer the customer goes without paying, the older a receivable will become (increase in their age).

Accounting Seed has out of the box Salesforce reporting for Aged Receivables, this shows the customer how "old" their outstanding customer invoices (Billings) are, and helps them prioritize their collection activities.

Accounts Receivable Aging reports can be run as of the current moment for collection activities and as of the end of an Accounting Period for reconciliation to the Balance Sheet.

A user can send customers an Outstanding and/or an Activity Customer Statements to assist with collection activity directly from the customer Account record.

 
Revenue Amortization
Accounting Seed has a revenue amortization tool that allows you to set up an automatic schedule of entries to spread revenue across a specified timeframe or in a time frame different than the Billing date. This assists customers in adhering to the GAAP matching principle.

 
Credit Card payment
Integrated to Stripe for payment processing

Ability to store customer's payment methods in Salesforce

Batch charge customer Billings

Automatically notify customers of upcoming expiring credit cards

Email a Payment link to a customer so they can pay their Billing online from their computer

Only supports US Dollar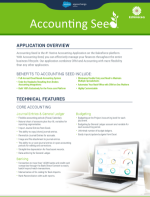 Print a full listing of all Accounting Seed features.