Accounting Seed leverages Salesforce's Currency Tables and multi-currency functionality. To enable multi-currency for Accounting Seed the following steps must be followed:
Contacting Support
Contact Salesforce and have them enable multi-currency. You will be asked to confirm this decision because it is irreversible.
Contact Accounting Seed support and ask to enable multi-currency. You will again be asked to confirm because this is irreversible.
Along with enabling this, Accounting Seed will setup a default "realized gain/loss on foreign currency" expense GL account and add this to the Accounting Settings tab. This account will be used to capture realized gain/loss on foreign currency exchange.
Also you will be required to declare your financial reporting currency. Once this is set it is not changeable
Multi-Currency Settings
Once Multi-Currency is enabled by both Salesforce and Accounting Seed navigate to Setup/Company Profile/Manage Currencies and set the following configurations:
Enable "Advanced Currency Management"
 Disable "Parenthetical Currency Conversion"
Once this has been completed your screen should look like the one below: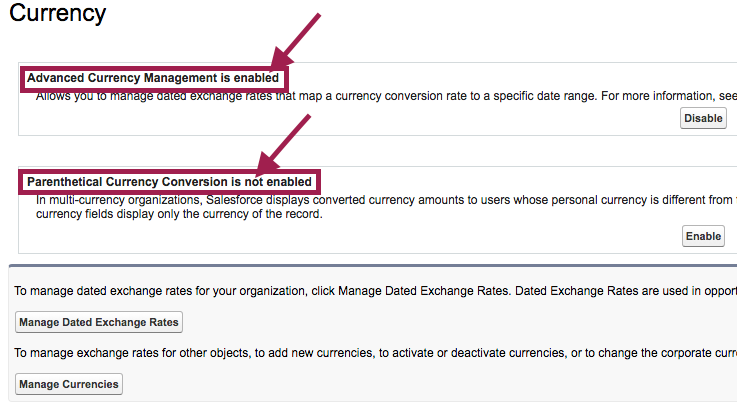 Page Layout Adjustments
The following fields should be added the Billings, Cash Receipts, Accounts Payable, and Cash Disbursement object page layouts:

Currency 
Currency Conversion Rate
Ledger Amount
Below is an example of how the billing page will look after adding these fields.