Prerequisites
Accounting Seed supports accounting for multiple companies in a single instance of Salesforce under the following conditions:
All of the the companies share the same fiscal year end
All of the companies use the same reporting currency.
Setup
Simply select 1 of the GL Variables as your company value. Enter all of the companies you would like to do accounting for. You are then able to tag all data records to a specific company.
Summary of Best Practices
Accounting Seed recommends the following configurations for doing multiple companies 
Assign each customer or vendor to a specific company via populating the GL variable field on the Account. It is best to make this required and also to block changes to it after transactions using this data recorded have been recorded.
Create formula fields on the Billing and Account Payable Header records to display company on each individual data record.
Assign an Account to a Company
The easiest way to automate the accounting for multiple companies is to assign each customer & vendor (Account) to a specific company. To do so simply navigate to the Account and populate the Accounting Variable used for multi-company with the appropriate company value for the Account selected. 
If the company is set at the Account level then the following transactions will automatically be assigned to the company associated with the Account:
Billing Lines
Cash Receipts
Cash Applications (Billing Cash Receipts)
Accounts Payable Lines
Cash Disbursements
Create Formula Fields on Header Records
If a company is designated at the account level using the accounting variable, then a formula field can be created on the Billing, Accounts Payable, Sales Order, and Purchase Order objects to copy over the company information on these records from the account. This will provide the ability to run billing and account payable aging reports by company.
Step-by-Step Instructions
Assign a specific GL Accounting Variable field for your company on the customer or vendor record. 
Navigate to Salesforce setup.
Click on Create | Objects | Billings (Accounts Payable).
Navigate to the custom fields and relationship section and click the New.
Select formula as the data type and click next.
Give the field label a name like "Company" and select text as the formula return type.
Select the advanced formula tab on the next page and click Insert Field.
Select the below options and click insert.

Customer
GL Account Variable X (X is the variable used for your company)
Accounting Variable Name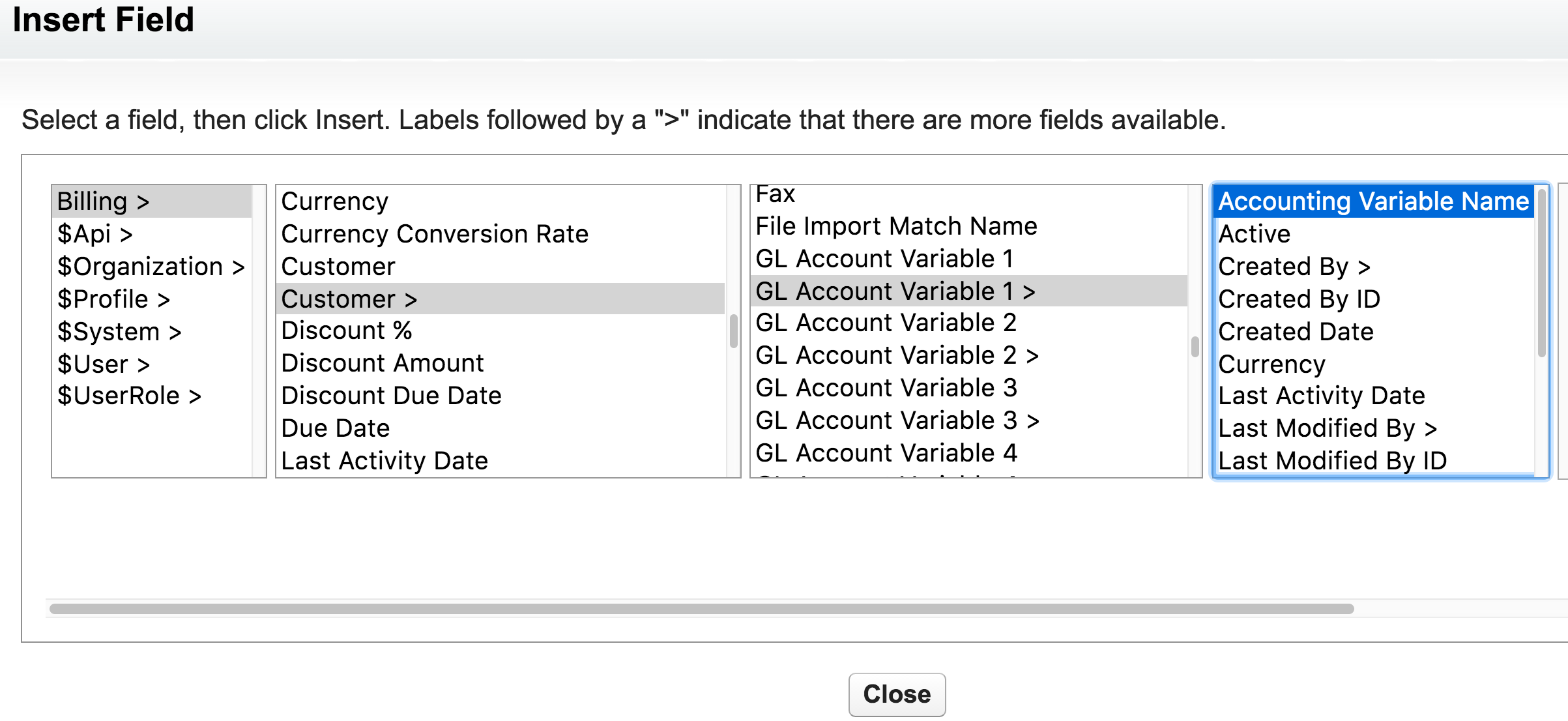 Click next to set the field level security for each profile and save the new field.