Overview
Closing an accounting period will update the opening balances in the next period, lock the closed period from the addition or deletion of records, and update aging records for both receivables and payables.  A closed period can be reopened to correct past transactions. You can close up to 12 Accounting Periods at a time. 
Steps
Close one Accounting Period at a time
From Accounting Home, under the General Ledger Setup section, choose Accounting Periods.
Click Edit beside the Accounting Period you wish to close. Note: Accounting Periods must be closed in chronological order, oldest first.
On the Accounting Period Edit page, change the status from Open to Close.
Click Save. An email confirmation that the period has been closed will be sent to the email address registered with the Salesforce User who closes the period.
Close up to 12 Accounting Periods at a time
From the Open Accounting Periods List View, select the Accounting Periods you want to close.
Double click in the Status column of the list view next to one of the selected records and change the status from Open to Closed in the resulting Edit Status window.
Choose the radio button to apply changes to all the Accounting Periods.
Click Save.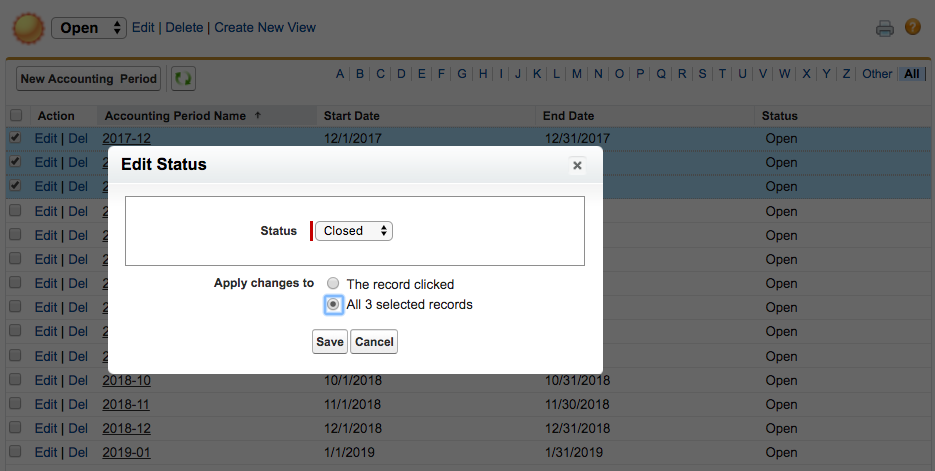 Rules that Govern Period Open and Close
Closing the current period is necessary to report an accurate balance sheet for the month, but not necessary to report an accurate profit and loss report or trial balance. These reports can be run in the current month without closing the period. 

Only one or one group of accounting periods can be closed at a time. If you try to close an accounting period while others are in the process of being closed, you will receive an error message.

When opening or closing multiple Accounting Periods at the same time, you may notice a delay in running reports until the opening or closing process has been completed. Opening and closing accounting periods typically takes three minutes to process.

You cannot have prior accounting periods open while closing an accounting period. For example, if you are trying to close period 2018-12, then 2018-11, and any period before that cannot have a status of Open.