This task is normally done by a trained Salesforce administrator. To learn how to navigate Salesforce CRM, visit the Trailhead learning resource in the Help section of your Salesforce account.
Profiles define how users access objects and data, and what they can do within the application.
Follow the steps below to make page layout changes to the Salesforce Account Standard Object. (You will eventually repeat the steps for the Opportunities, Products, and Assets Standard Objects.)
 

Click

Setup

and then navigate to

Page Layouts

.

Salesforce Classic:

Select

Build

on the left navigation menu and then click

Customize

.

Click

Accounts

and then click

Page Layouts

from the drop-down menu.

Lightning Experience:

Click the

Object Manager

button on the top menu.

Click Accounts and then click Page Layouts.


Click the
Page Layout Assignment
button.


On the Page Layout Assignment page, click Edit Assignment.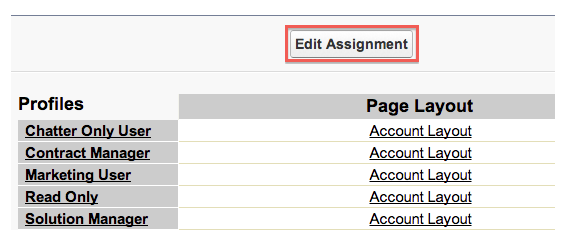 In the Profiles column, click System Administrator. Use Shift-mouse to select additional Profiles for those who you want the Accounting Page Layout to be the default layout.


Click the Page Layout Assignment drop-down menu and select Account (Accounting) Layout.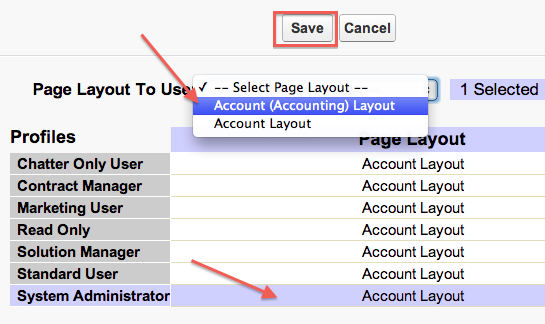 Click Save.


Repeat Steps 1 - 6 for the Opportunities

page layout. (Select

Opportunities

in Step 1, rather than

Account.)


Repeat Steps 1 - 6 for the
Products
page layout. (Select
Products
in Step 1, rather than
Account
.)


Repeat Steps 1 - 6 for the Assets page layout. (Select Assets in Step 1, rather than Account.)